I am using this post for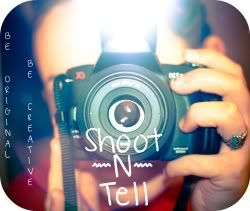 This is a new challenge brought to us by
Natalie
. Go ahead on over and check it out - you know you wanna.
I found this glass sitting on my kitchen counter.
I asked Hannah what it was.
She told me (with her hand on her hip)
"Well, Mimi that is Octi, my play octopus."
Oh, I see Octi... What are those little round colored things in there with Octi? *insert baffled look here*
"Oh, Mimi *shaking her head in disbelief* Come On - can't you see - those are his *toys!"
Oh My -- Silly me.
*Those toys - are Barbie hair clips!